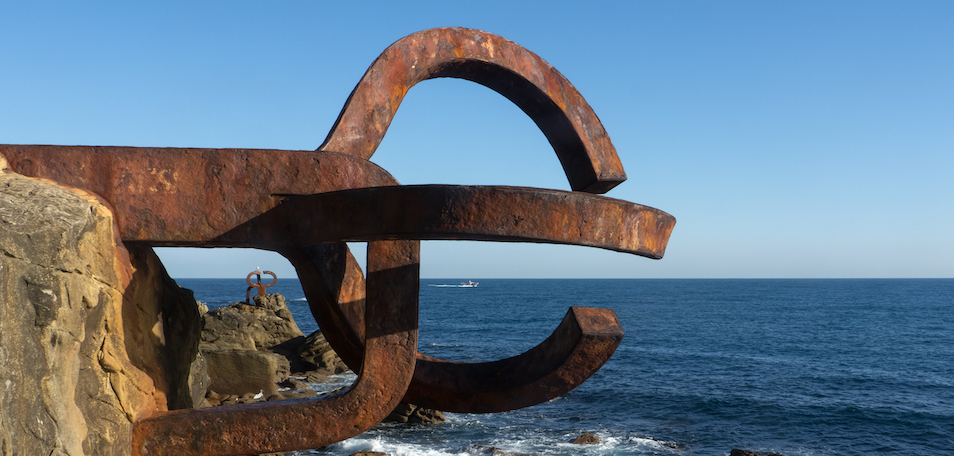 Basque Studies has been an important and unique contribution to UC Santa Barbara's course offers and academic cultural events since the early 1990s. The teaching of Basque language and culture started through Professor Juan Bautista Avalle Arce's efforts in 1993. Professor Avalle Arce (1927-2009) was hired in 1984 as a prominent Cervantes scholar. Born in Buenos Aires (Argentina) and educated at a Scottish boarding school (and later at Harvard University), Avalle Arce's family was from Navarre and he was interested in promoting Basque studies at UC Santa Barbara. In 1993 he was able to raise funding from now defunct Navarrese banks and the Basque Autonomous Government for this purpose. UC Santa Barbara gladly received this gift, which was turned into an Endowment, named in honor of Jose Miguel Barandiaran, the distinguished Basque anthropologist. The Barandiaran Endowment was coupled to Professor Avalle Arce's position at UC Santa Barbara, who held the named Chair in Basque Studies from 1993 until his retirement in 2003. Since Professor Avalle Arce was a Cervantes scholar, the Chair was located in the Department of Spanish and Portuguese.
The funding from the Barandiaran Endowment was meant to promote and support Professor Avalles Arce's research, but he also used it to hire a Basque lecturer to teach two classes in Basque language and culture a year. After Professor Avalle Arce's retirement in 2003, the Chair remained vacant for seven years. Nevertheless, thanks to the support of some colleagues such as Professor Viola G. Miglio, and with the help of the Department of Spanish and Portuguese and the Dean's Office, the teaching of Basque language and culture courses continued and so did the organization of conferences and events in which Basque was either the main focus or at least a fundamental part of the event.
In 2010 Professor Miglio agreed to manage the Barandiaran Chair of Basque Studies as a "place-holder" for a fully-fledged Basque Studies expert. The Department of Spanish and Portuguese had hoped for a position in Basque Studies after Professor Avalle Arce's retirement, but some economic downturns in California and globally in 2008 made this impossible. Through the access to the Barandiaran Endowment, Professor Miglio was able to secure the collaboration and the agreement with the Basque Autonomous Government's cultural branch, the Etxepare Basque Institute, which now provides the Department of Spanish and Portuguese with a Basque lecturer, a position financially supported exclusively by both the Institute and the Barandiaran Endowment. The Etxepare Lecturer of Basque Studies is in charge of designing and teaching courses, promoting Basque Studies on campus and recruiting students, and organizing events for the diffusion of Basque culture.
Currently, the Center for Basque Studies offers several courses every academic year, including an introduction to Basque Studies, Basque film, Basque and other ethnic groups' migration to the American West, and beginners and intermediate Basque language and culture. In collaboration with the Etxepare Basque Institute, the Center for Basque Studies offers funding opportunities to undergraduate students to conduct individual research projects on Basque subjects, and facilitates stays in the Basque Country to improve Basque language skills and get immersed in the Basque way of life and culture.
An important aspect of the Center for Basque Studies is the organization and co-sponsoring of events for the diffusion of Basque Studies at UC Santa Barbara. Since 2010, various conferences and symposia with a Basque Studies component have been organized annually (the UNESCO Mother Language series in 2011, 2012, 2013, 2014, 2015 and 2019) or more often. Some of these conferences and symposia have counted with the presence of former lehendakari or president of the Basque Autonomous Community Juan Jose Ibarretxe and well-known Basque authors such as Aurelia Arkotxa, Itxaro Borda, Mariasun Landa, and Miren Agur Meabe, among others. Cultural events directed to undergraduate students have also been very successful, such as the hands-on talk about Basque mariners, explorers, and whalers in the 15th century held by Basque American author Christine Echeverria Bender or the Basque Traditional Sports lecture and demonstration that was literally "ran" two years in a row. Many students also participated in events such as the Freshman course on State Terrorism that Professor Miglio co-taught with Professor Xabier Irujo from the Center of Basque Studies at the University of Nevada, Reno. The course featured the participation of 80-year-old Ray San Vicente, a Basque member of our local community and a survivor of the bombing of the Basque city of Durango on March 31, 1937, which preceded the bombing of Gernika by about a month.
Student testimonials
Arlette Melendez, English major (class of 2022)
"The Basque Studies courses I have taken thus far led me to gain a deep respect for Basque people and their culture. On top of learning more about Basque culture, various courses I have taken with Professor Ezkerra have changed the ways I view trauma, memory, assimilation, migration, and other topics in relation to the Basques and other races/ethnic groups. These classes have opened my eyes and have had a significant and positive impact on my academic and personal life."
Verenice Ramirez, double major in Linguistics with Emphasis in Speech Language Science and Disorders & Spanish (class of 2022)
"Taking Basque Courses emerged me into a new culture. I became fascinated with learning a new language that most people do not know about. Learning Basque is important because remembering and acknowledging the past is a way to honor those who were written out of history."
Marcy del Toro, Spanish major (class of 2021)
"Taking Basque Studies courses enriched my college experience! As a college student, sometimes finding courses that aligned with my interests and fulfilled requirements was challenging. Fortunately, I found the solution in taking Basque studies courses. If you, like I, share an interest in learning about new cultures, taking Basque Studies courses is the way to go. Not only will you learn about a unique language and culture but will be in a collaborative environment with a manageable workload, since classes are mostly discussion-based on the interesting readings chosen for these courses."
Ryan Forletta, double major in Spanish and Linguistics (class of 2021) 
"Basque studies has helped me better understand all of the voices, people, and languages of the Iberian Peninsula. Courses on Basque language and culture gave me a more comprehensive view on the struggles that minoritized languages face, and the importance of language revitalization within their communities. Basque studies offers some of the best classes I have taken at UCSB."
Photo: Haizearen orrazia (the Comb of the Wind), a collection of three sculptures by Basque artist Eduardo Chillida in Donostia-San Sebastian (Gipuzkoa).